Using evidence to focus screening activities on people who stand to benefit the most
Explore prioritizing people based on risk for both screening and follow-up activities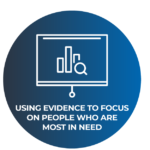 Risk-based screening should be explored to optimize the impact of screening with the capacity available.
It is important that risk-based approaches to prioritizing screening services consider the following:
Risk based screening should be based on the likely net benefit of screening, and not the risk of COVID-19 infection or COVID-19 related complications.
Risk based screening should be equitable and not exclude groups on the basis of varying risk factors.
Screening benefit should be defined and relate to important clinical and/or health outcomes.
The estimation of benefit should have an evidentiary base supported by appropriate scientific literature and health information.
The benefit estimation process should be documented and available for professional and public inspection.
Recommendation 1: Leverage FIT triage to improve colonoscopy access.
Key evidence and implementation considerations
A recent UK study showed that FIT triage (at 10 and 150mg HB/G) of urgent symptomatic patients in primary care could streamline access to diagnostic colonoscopy and reduce delays for true-positive CRC cases. Utilizing such strategies can be beneficial during short-term rationing of endoscopy services.
Temporarily changing screening result criteria for referral for diagnostic assessment will result in subjects who will no longer be referred: their future screening should be clearly described for both the staff and screening participant.
Detailed data on the outcomes of subjects should be collected, maintained, analyzed, and reported (e.g., period of time that elapses before individuals with a positive FIT at a low value receive colonoscopy).
Unavoidable variations in delivery should be considered as opportunities for improving knowledge and not as obstacles to change.
Recommendation 2: Implement risk-based management for individuals referred to diagnostic mammograms, colposcopy, and colonoscopy.
Key evidence and implementation considerations
International evidence suggests that colonoscopy demand should be prioritized by classifying participants according to individual colorectal cancer risk and medical urgency.
The Canadian Association of Gastroenterology recommends that endoscopic procedures should be prioritized according to tiers: must always be performed; should be performed; could be performed; should be deferred. For example those with high likelihood of colon cancer based on imaging, physical examination or symptoms should be performed.
Ontario Health recommended that gastrointestinal (GI) endoscopy is prioritized according to potential for serious consequences for morbidity or mortality, but could occur for specific cases to screen people at increased risk for GI cancer. However, GI endoscopy for participants who can be screened for colorectal cancer with the FIT instead of colonoscopy, during or after the pandemic is not recommended.

Recent modelling which estimated the backlog and recovery of screening service in Ontario showed that minimizing colonoscopy for CRC surveillance and screening in favour of FIT testing can reduce recovery time for screening backlogs.

BC Cancer recommends that patients with significant symptoms should be referred for colonoscopy and all patients who have been recommended for colposcopy should be referred.
Ontario guidance recommends the use of risk-based management for individuals referred to colposcopy to maximize capacity and minimize risk to patients and staff. A priority classification framework provides direction to the Ontario colposcopy community for the prioritization of colposcopy services during COVID-19.
Ontario encourages prioritizing those with an abnormal screening result and those participating in the high-risk breast screening program for mammography versus average-risk screening. Similarly, breast MRI is prioritized for those with an abnormal screening result.

Recent modelling which estimated the backlog and recovery of screening service in Ontario showed that prioritization of screening mammography could facilitate clearing of screening backlogs, specifically for higher risk groups (high risk screens, initial screens, annual/one-year screens).

In the Ontario Health (Cancer Care Ontario)'s lung cancer screening pilot, screening was interrupted in March of 2020, at its four major screening sites and as the COVID-19 pandemic receded, screening restarted in July of 2020. Recommendations were made to sites to prioritize screening starting with those with preceding abnormal Lung-RADS classifications and to those with highest PLCOm2012 scores. There is evidence to support this recommendation. Individuals who screened negative prior to 2009 in the Toronto Princess Margaret site of the International Early Lung Cancer Action Program (IELCAP) were recalled for screening between 2015 to 2018 starting with those with highest PLCOm2012 risk scores and working down the rank order.
Recommendation 3: Develop a centralized referral uptake process (e.g. coordinated points of entry for receiving referrals).
Key evidence and implementation considerations
Implementing a centralized referral uptake process can:

Support the ethical prioritization of patients at a hospital and regional level, where available consult with a Bioethicist
Facilitate the use of agreed upon, evidence-based referral triage criteria
Reduce wait times for people who need GI endoscopy procedures

Programmatic referrals for diagnostic services such as colonoscopy, can minimize duplicate referrals (i.e., referrals that may have been sent to more than one facility and/or endoscopist for the same indication).
Learn more
For more information and references, download the guidance document Management of Cancer Screening Services During the COVID-19 Pandemic and Building Resilient, Safer & Equitable Screening Services.
COVID-19 resources are available to support and optimize screening restoration.