Prevention Policies Directory
Access current Canadian policies. Learn from other jurisdictions. Inform change.
Keyword search
Browse policies
Browse thousands of regularly updated Canadian healthy public policies focused on cancer and chronic disease prevention.
Browse by Location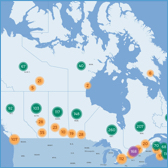 You can also browse our policy database by Canadian province, territory, municipality or region with our interactive map tool.