Supplementary data: Prince Edward Island
This page provides data visualizations related to the priorities for Canada's cancer system, as well as accessible descriptions.
Download data tables for all indicators.
---
Topic: Keeping people smoke-free
Title of image: Percentage of individuals in PE (aged ≥ 12) classified as daily or occasional smokers in 2019
Text description: 16.2% for Prince Edward Island, and 14.7% for Canada
Caveats/limitations:
This indicator was reported using the Canadian Community Health Survey (CCHS). Overall smoking rates are reported using 2019 data.
Individuals who did not respond to the required CCHS questions regarding smoking status were not included in the analysis.
Data source: Canadian Community Health Survey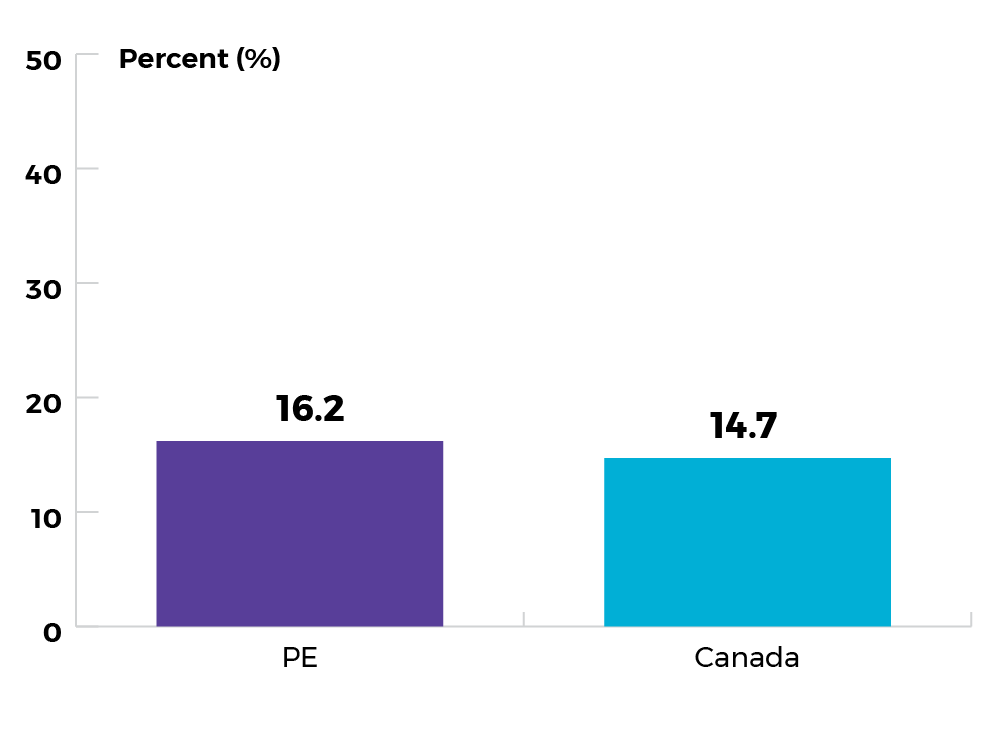 ---
Topic: Keeping people smoke-free
Title of image: Percentage of individuals in PE (aged ≥ 18) classified as daily or occasional smokers in 2019, by household income quintile* and sex
Text description:
Quintile 1 (Lower quintile): females: 9.5%; males: 21.5%
Quintile 2: females: 16.5%; male: 25.3%
Quintile 3: females: 19.0%; males: 23.7%
Quintile 4: females: 4.6%; males: 15.9%
Quintile 5 (Upper quintile): females: 22.5%; males: 11.7%
*Quintile: Household income divided into 5 levels
Data source: Canadian Community Health Survey

---
Topic: Keeping people smoke-free
Title of image: Percentage of individuals in PE (aged ≥ 18) classified as daily or occasional smokers in 2019, by highest level of education
Text description:
Less than secondary school graduation: females: 21.7%; males: 37.6%
Secondary school graduation, no post-secondary education: females: 19.6%; males: 20.7%
Post-secondary certificate/diploma or university degree: females: 11.6%; males: 13.5%
Data source: Canadian Community Health Survey

---

Topic: Reducing obesity
Title of image: Percentage of individuals in PE (aged ≥ 18) classified as overweight or obese in 2019
Text description: 72.8% for Prince Edward Island, and 65.9% for Canada
Data source: Canadian Community Health Survey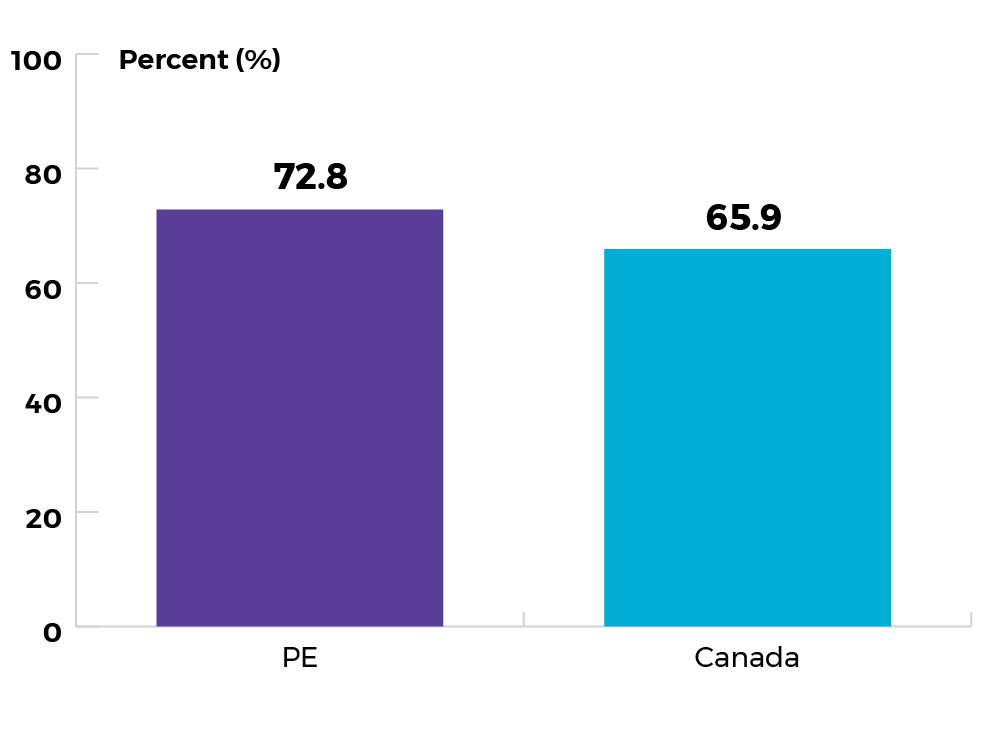 ---
Topic: Reducing obesity
Title of image: Percentage of individuals in PE (aged ≥ 18) classified as overweight or obese in 2017-2018, by income quintile* and sex
Text description:
Quintile 1 (Lower quintile): females: 69.2%; males: 66.2%
Quintile 2: females: 65.5%; male: 78.5%
Quintile 3: females: 65.9%; males: 80.3%
Quintile 4: females: 70.2%; males: 78.0%
Quintile 5 (Upper quintile): females: 65.3%; males: 84.7%
*Quintile: Household income divided into 5 levels
Data source: Canadian Community Health Survey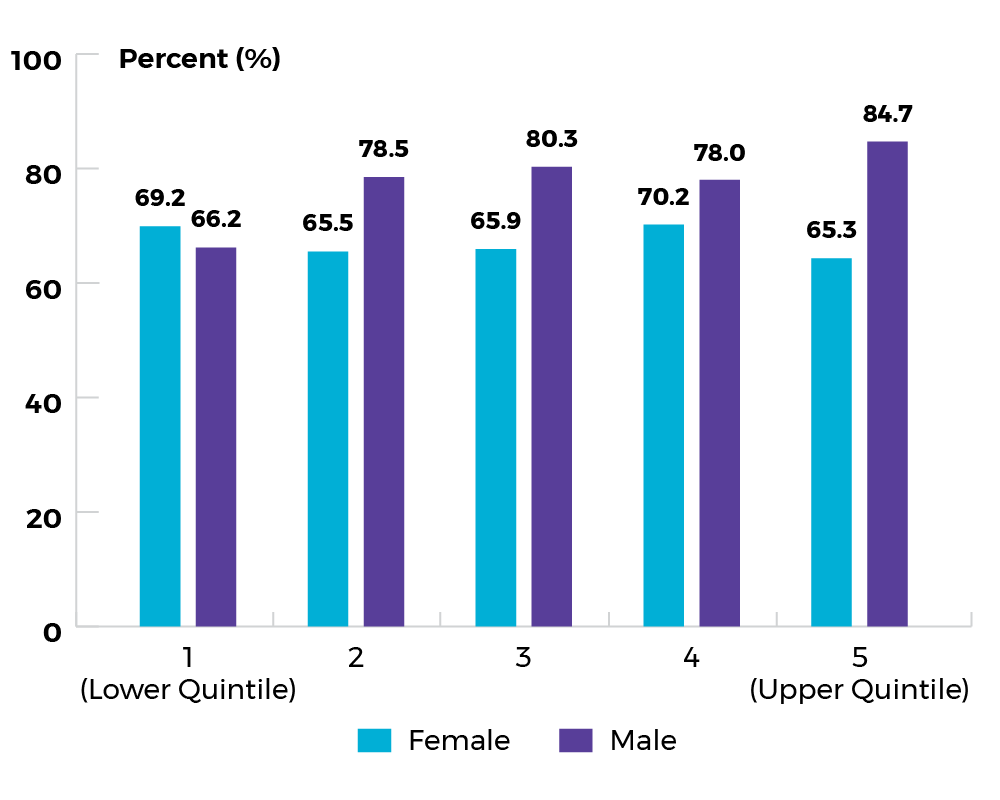 ---
Topic: Reducing obesity
Title of image: Percentage of individuals in PE (aged ≥ 18) classified as overweight or obese in 2017-2018, by sex
Text description: 78.5% for males, and 67.0% for females
Data source: Canadian Community Health Survey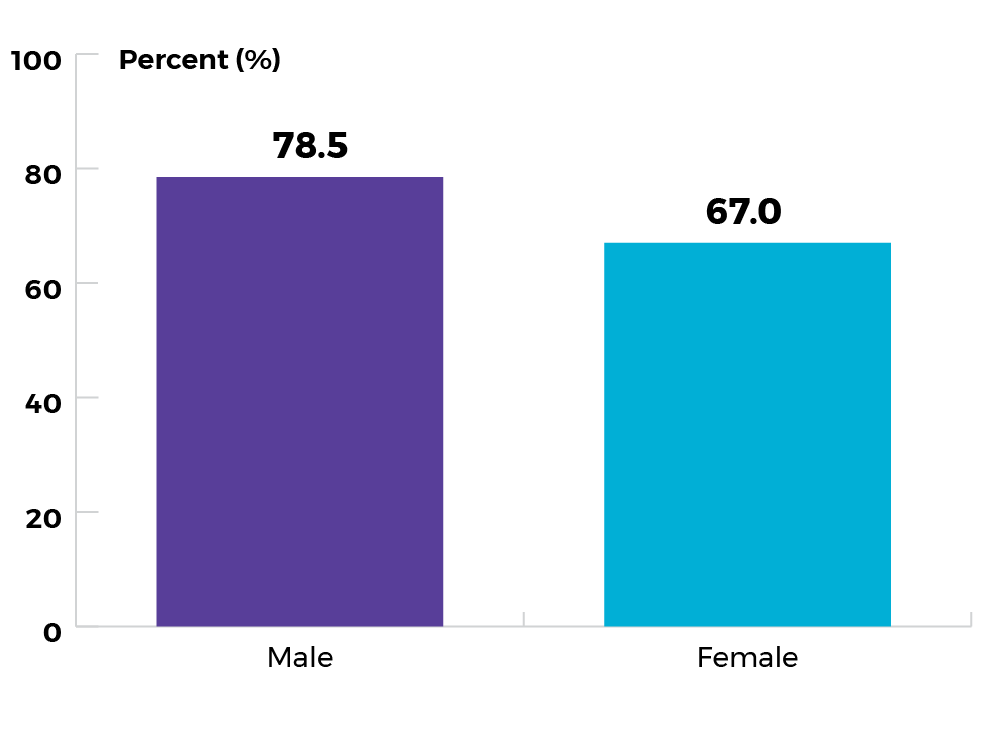 ---
Topic: Increasing HPV vaccination
Title of image: Percentage of students aged 12 completely vaccinated* for HPV in PE in 2019
Text description: 82.1% for males (age 12), and 84.0% for females (age 12)
Data source: Provincial cancer agencies and programs
*Complete vaccination = Three doses for ages 12+ before 2015. From 2015, only two doses = Complete vaccination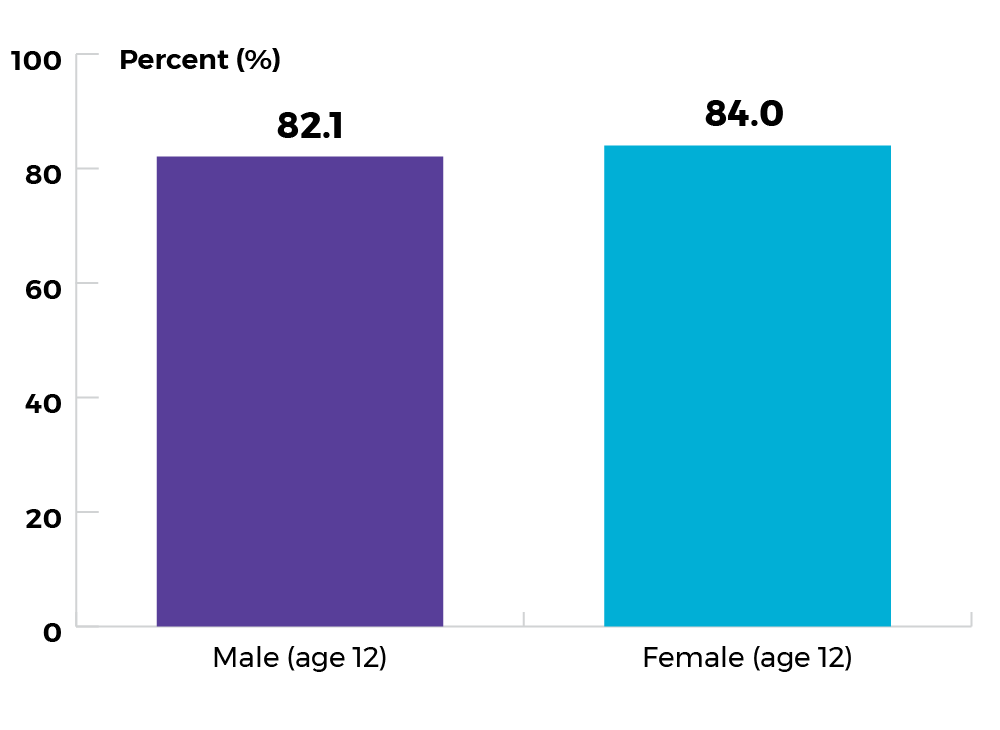 ---
Topic: Increasing HPV vaccination
Title of image: Percentage of students aged 12 completely vaccinated* for HPV in PE in 2019, by age
Text description:
Age 12: 82% males; 84% females
Age 13: 86% males; 86% females
Age 14: 90% males; 88% females
Age 15: 85% male; 84% females
Age 16: 81% males; 83% females
Age 17: 79% males; 85% females
Age 18: 78% males; 87% females
Age 19: 79% females
Age 20: 73% females
Age 21: 66% females
Age 22: 64% females
Data source: Provincial cancer agencies and programs
*Complete vaccination = Three doses for ages 12+ before 2015. From 2015, only two doses = Complete vaccination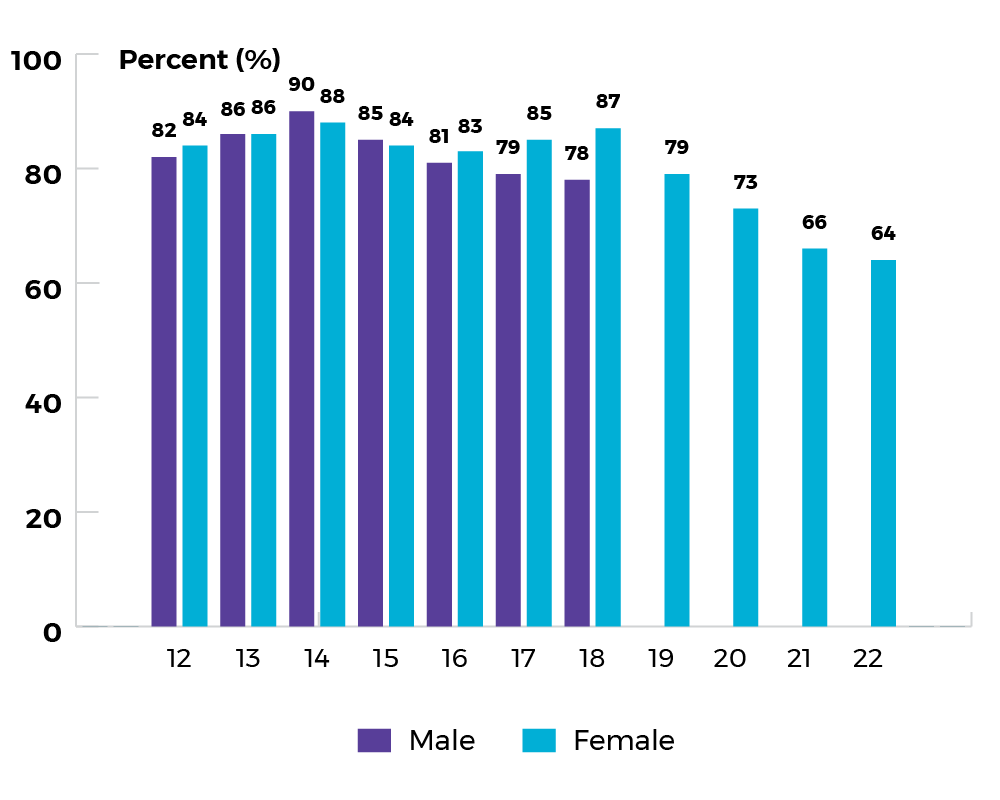 ---
Topic: Diagnosing cancer earlier
Title of image: Proportion of stage 4 or later stage cancer diagnosis in PE in 2018
Text description: 52.7% for lung; 23.2% for colorectal; 19.6% for bladder (Stage 2 to 4 combined); 17.5% for melanoma (Stage 3 to 4 combined)
Data source: Provincial cancer agencies and programs

Topic: Increasing participation in colorectal cancer screening
Title of image: Percentage of people in PE that had a FIT test in the past 2.5 years (Jul 1, 2017 – Dec 31, 2019) or had a sigmoidoscopy or colonoscopy in the past 10 years (Jan 1, 2010 – Dec 31, 2019)
Text description:
Overall (Age 50 to 74): 59.9%
Age 50 to 54: 56.7%
Age 55 to 59: 54.6%
Age 60 to 64: 59.9%
Age 65 to 69: 66.9%
Age 70 to 74: 63.4%
Data source: Provincial cancer agencies and programs

---
Topic: Implementing multidisciplinary care
Title of image: Percentage of pediatric patients in PE not treated in the adult cancer treatment centre who were discussed at the multidisciplinary discussions in 2019
Text description: Overall: 100%
Data source: Provincial cancer agencies and programs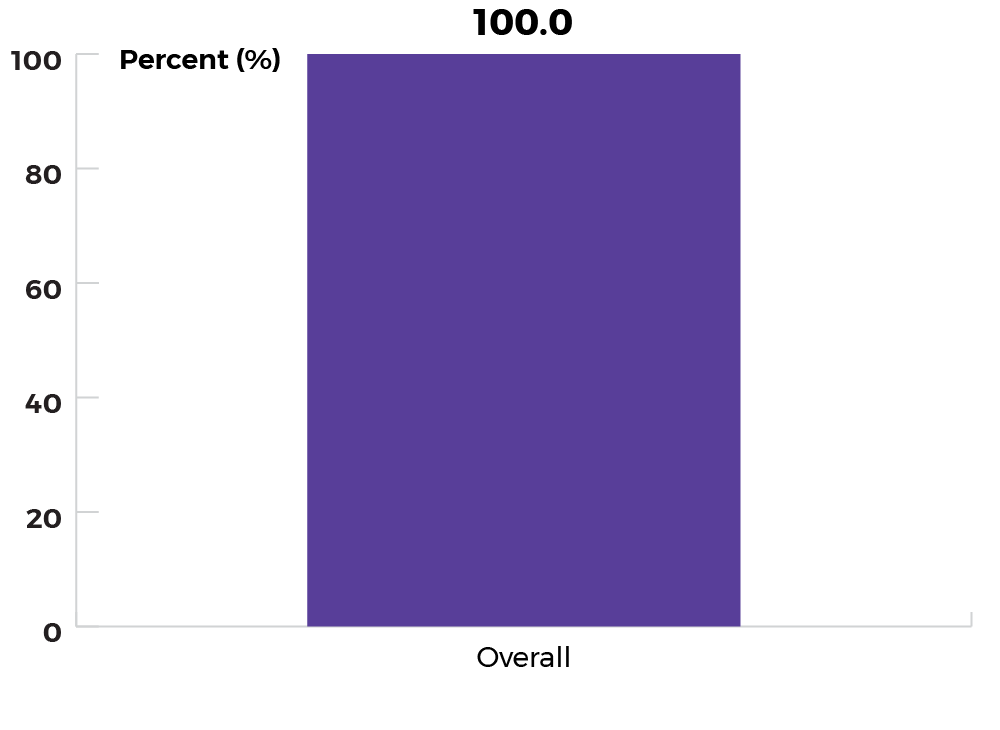 ---
Topic: Implementing multidisciplinary care
Title of image: Percentage of adult patients with rectal cancer in PE discussed at multidisciplinary rounds or discussions in 2019
Text description: Overall: 33.3%
Data source: Provincial cancer agencies and programs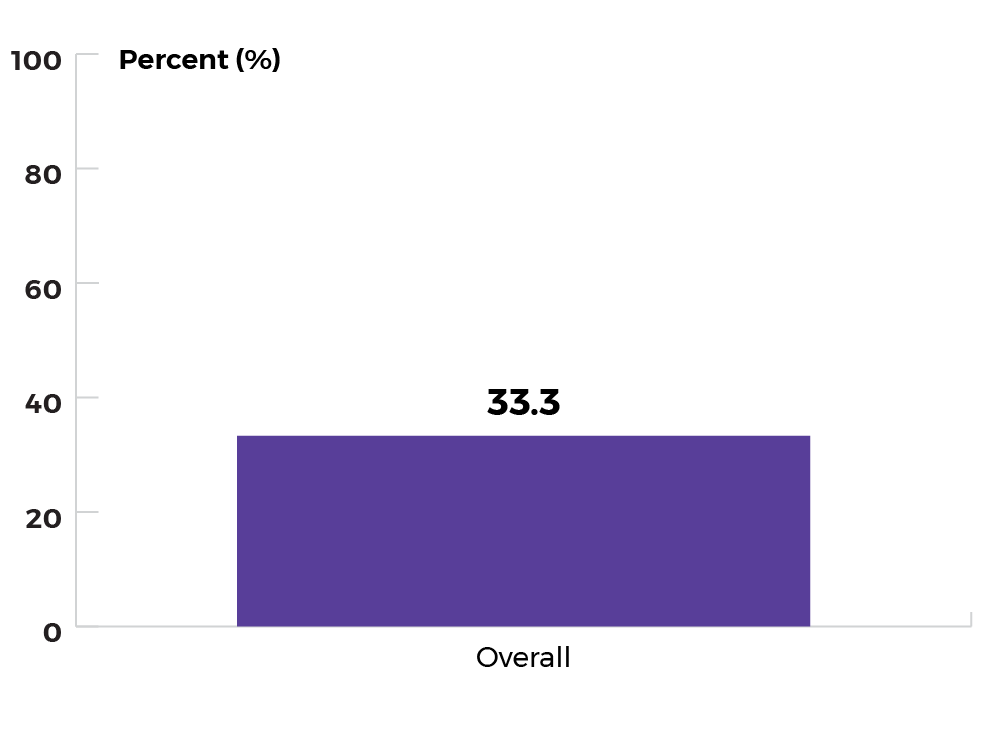 ---
Topic: Optimizing screening and appropriate follow-up
Title of image: Percentage of individuals in PE aged 40-49 who were screened with mammography in 2019 (breast cancer by age)
Text description:
Overall (Age 40 to 49): 19.1%
Age 40 to 44: 15.3%
Age 45 to 49: 22.8%
Data source: Provincial cancer agencies and programs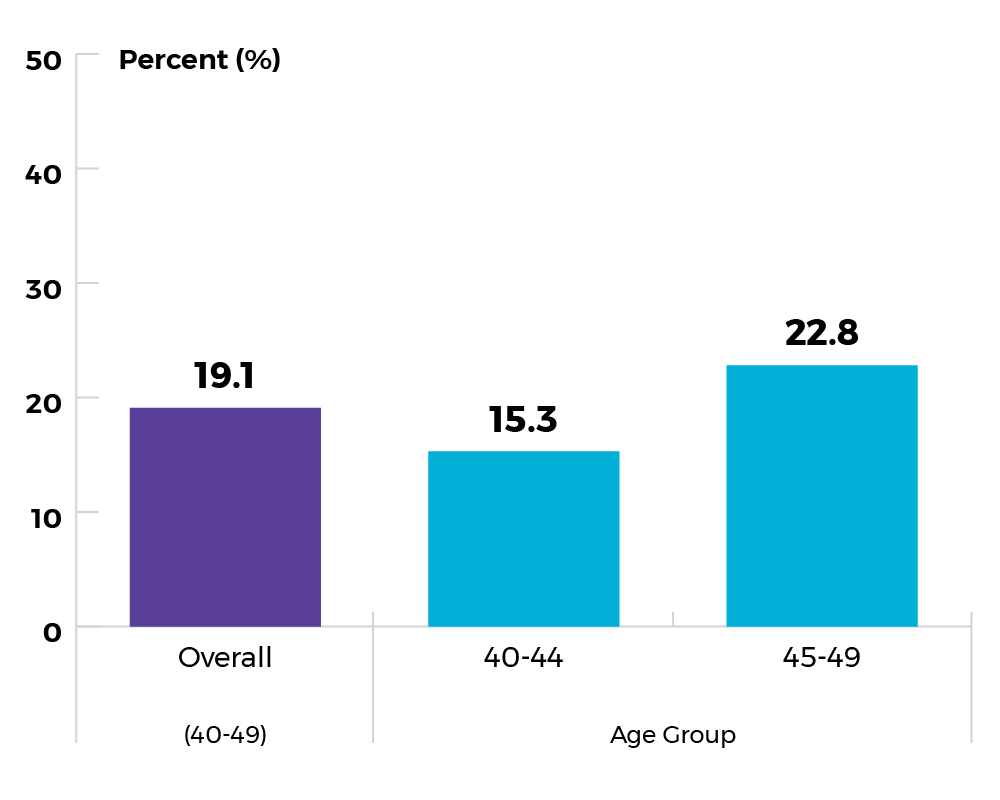 ---
Topic: Optimizing screening and appropriate follow-up
Title of image: Percentage of individuals in PE who had a second screen 11-18 months after first screen in 2018 (breast cancer by frequency)
Text description:
Overall (Age 50 to 74): 33.4%
Age 50 to 59: 30.4%
Age 60 to 69: 35.3%
Age 70 to 74: 35.6%
Data source: Provincial cancer agencies and programs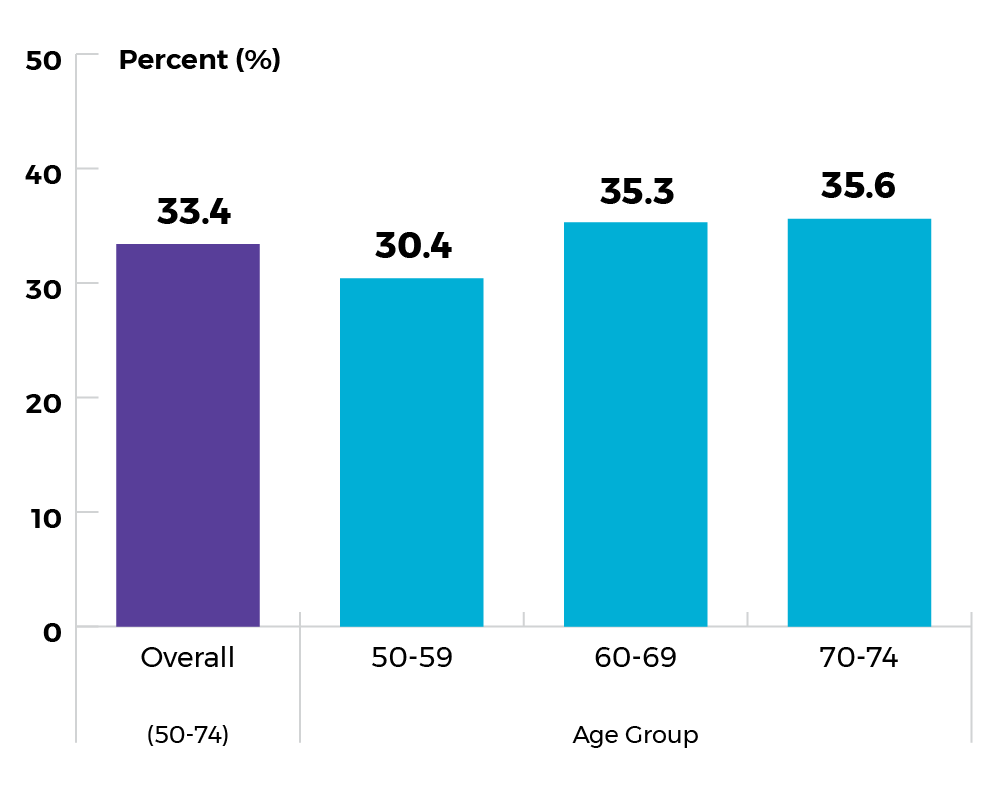 ---
Topic: Optimizing screening and appropriate follow-up
Title of image: Percentage of people with a cervix in PE aged 18-24 who were screened with Pap test in 2017-19
Text description:
Overall (18-24): 42.1%
Age 18 to 20: 12.1%
Age 21 to 24: 63.4%
Caveats/limitations: Individuals with cervical cancer or hysterectomies were not excluded.
Data source: Provincial cancer agencies and programs