Experiences of Cancer Patients in Transition Study
The largest pan-Canadian survey of its kind highlights the experiences of over 13,000 cancer survivors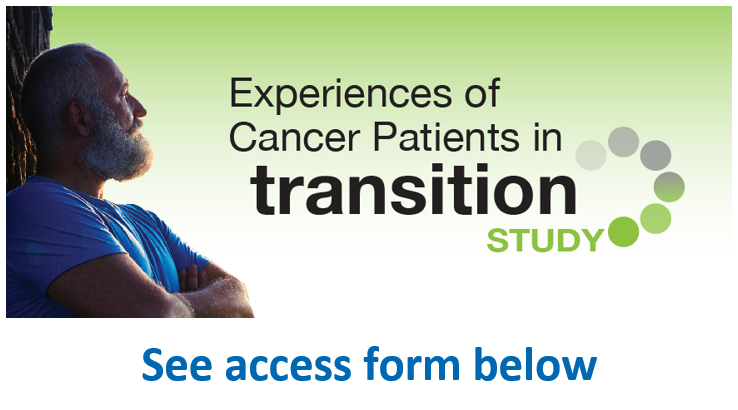 The Transition Study survey focused on cancer survivors who completed their primary cancer treatment in the prior one to three years. The Canadian Partnership Against Cancer worked with 10 provincial cancer agencies and programs to identify over 40,000 individuals who met the inclusion criteria and were invited to participate. The survey was completed between June 2016 and October 2016. Overall, there was a 33% response rate with a total of 13,319 respondents from 10 provinces, providing a robust sample.
The population and eligibility criteria included: adult survivors (age 30+ years) of breast, prostate, colorectal, melanoma with no metastatic spread, and selected hematological (e.g., Hodgkin's Lymphoma, Diffuse B-cell Lymphoma, Acute Myelogenous Leukemia, Acute Lymphocytic Lymphocyte Leukemia) cancers; and adolescents and young adults between the ages of 18 to 29 years with all non-metastatic cancer types (except testes, where metastatic disease was included).
Access Transition Study data
Transition Study data from all Canadian provinces is now available for use by research, practice and policy specialists. All available quantitative and qualitative data is raw but has personal and provincial identifiers removed.
Note:
Quantitative and qualitative data packages are provided in a SAS file format. Alterative file formats are available upon request. Please contact info@partnershipagainstcancer.ca for more information.
Qualitative data is available in the official language it was provided in.
Related content