Helping patients with cancer to quit smoking
Patients with cancer who stop smoking can improve their survival by about 40 per cent. Helping them to quit is critical.

Quitting smoking—an important part of cancer treatment
For patients with cancer, quitting smoking can make a big difference. Their cancer treatments become more effective, their overall health and quality of life improves and their chance of dying is reduced by about 40 per cent. It's no wonder that Canada's cancer strategy has made helping people to quit smoking a priority.
Nicotine is an addiction, and it's really tough to quit on your own. I was a smoker for 45 years, and even after undergoing surgery for lung cancer, I couldn't stop. I tried everything from nicotine patches and gum to hypnosis and acupuncture. It took years before I finally found a medication that worked, but not long afterwards I was diagnosed with lung cancer a second time and later with bladder cancer.

The support of a smoking cessation program in a cancer centre when I was first treated for lung cancer would have made a world of difference to me."

Archie Stewart
Port Hawkesbury, Nova Scotia
Helping patients to quit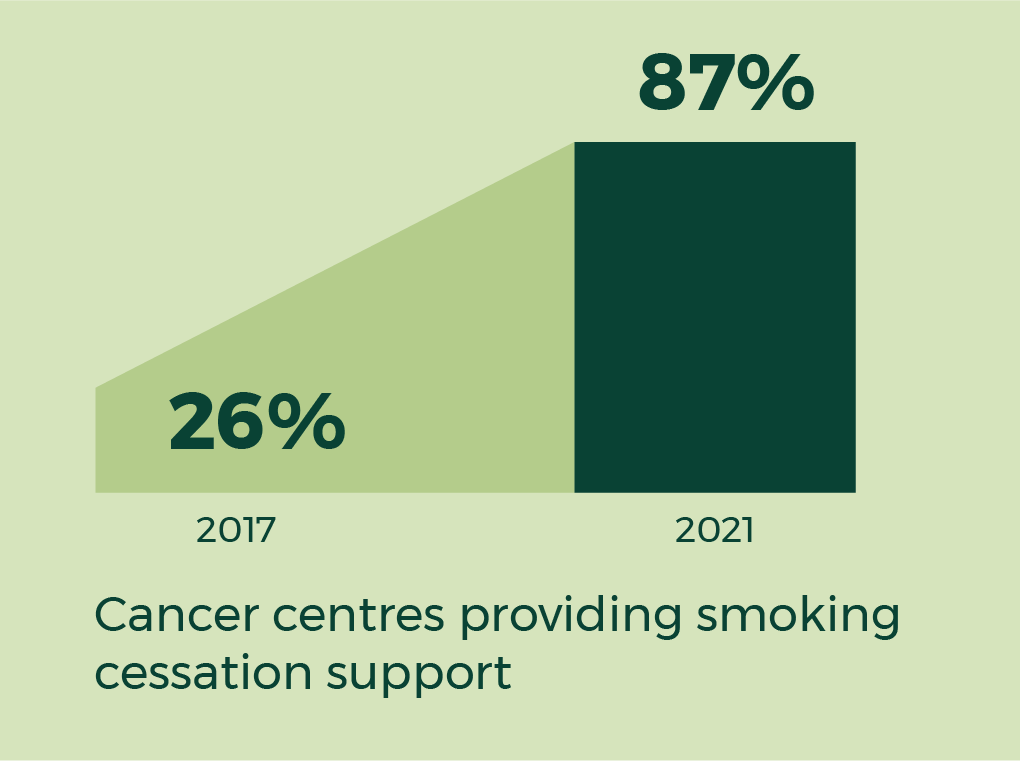 Quitting can be tough. Even when you want to—and most people do. That's why cancer centres across Canada have been adding smoking cessation support as part of cancer treatment.
Today, 87 per cent of centres offered patients support to quit smoking.
That's great progress, but more needs to be done. More cancer centres need to partner with First Nations, Inuit and Métis and underserved communities to co-create supports that are culturally appropriate and able to meet community needs. And all people with cancer should have easy access to smoking cessation medications.
The progress that has been made across Canada over the past five years has been amazing and represents world-class leadership in curbing tobacco use after a cancer diagnosis. If we work with people to quit smoking, we're not just making our cancer treatment better but also treatment for most other health conditions better as well."

Dr. Graham Warren, M.D., Ph.D., F.A.S.C.O., Expert Advisor to Canadian Partnership Against Cancer
Making medication free
Using smoking cessation medications can more than double the quit rate. But many people can't get access to these medications—or pay for them. Especially people who already face other health inequities. Government-funded smoking cessation medications that are easily accessible for all people with cancer could make the difference. It's not just important for people's health, it's a good investment for the health care system. Canada could save $50 to $74 million annually in cancer treatment costs for every five percent of people with cancer who quit smoking.
Learn about why quitting smoking is one of the best things you can do to help your cancer treatment work better.