Highlights from the 2019-2020 annual report
Read about recent key achievements
This annual report highlights key achievements from a year bookended by events that both challenged and motivated the cancer and broader health community in irrevocable ways. In June 2019, the Partnership released Canada's refreshed cancer strategy and set out a 10-year action plan to improve equity in the cancer system. In March 2020, Canada faced the onset of the COVID-19 pandemic that is affecting all aspects of healthcare delivery, including cancer screening, diagnostic services and surgeries.
Despite the challenges brought about by COVID-19, the Partnership and our partners remain focused on creating a cancer system for the future to ensure all people in Canada will have access to high-quality cancer care no matter who they are or where they live. Addressing equity and improving health outcomes for diverse and underserved communities, improving the efficiency and effectiveness of cancer services and ensuring the integration of cancer care with the broader healthcare system are at the heart of the refreshed Strategy.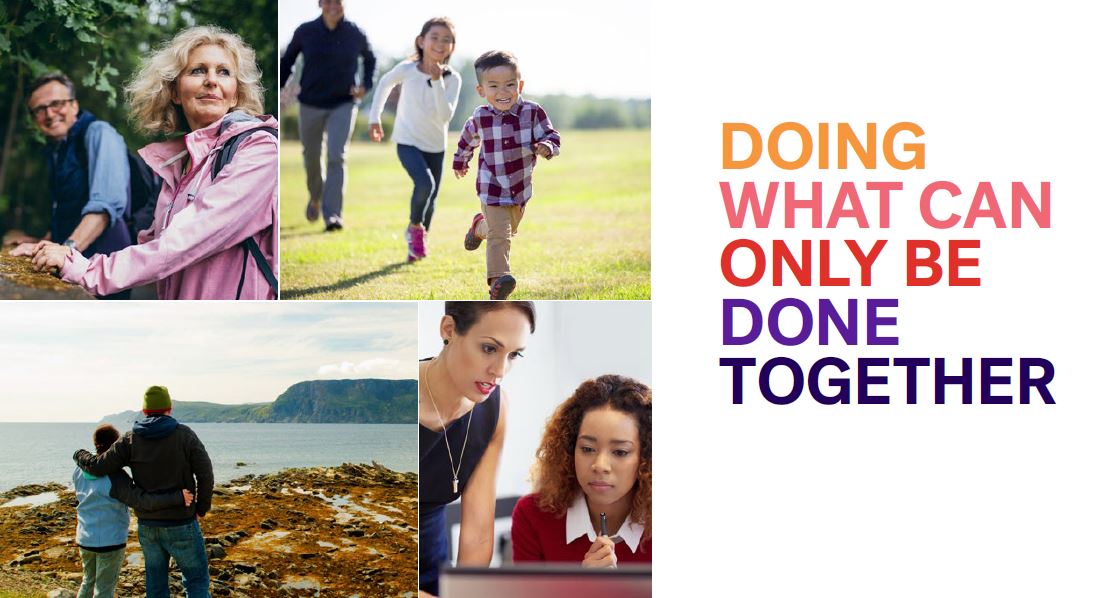 2019/20 Year in review
Current initiatives are advancing the Strategy and helping the cancer system respond to COVID-19.
Improving cancer care for First Nations, Inuit and Métis
With funding from the Partnership, more than 130 partners are taking action on Peoples-specific and self-determined priorities of First Nations, Inuit and Métis through initiatives that will benefit over 500 communities. The goal is to have Peoples-specific, First Nations, Inuit and Métis cancer plans in place in every province and territory by 2022, and First Nations, Inuit and Métis partners and cancer agencies/programs are collaborating on this work.
Training paramedics to deliver palliative care at home
Most patients receiving end-of-life care would prefer to remain at home. When urgent problems arise, families often turn to 911 for support. In fact, paramedics are involved in more than half of emergency department visits for patients receiving palliative care. Now, a new model of care is focused on reducing the need for emergency department visits by training paramedics to assess and treat palliative patients at home and then refer them back to their doctor or palliative care team for follow-up. The goal is to train 70 per cent of paramedics in participating jurisdictions by 2022. To date, 43 per cent—or more than 2,600 paramedics—have been trained.
Helping cancer patients to quit smoking
Cancer patients who quit smoking can lower their risk of dying from cancer by 30 to 40 per cent. Quitting can be tough. To ensure all patients get the support they need, the Partnership is funding smoking cessation initiatives in all 13 jurisdictions. The goal is to provide smoking cessation in all cancer centres by 2022. To date, 73 per cent of cancer centres have implemented a smoking cessation support program, up from 66 per cent last year.
Increasing equitable participation in colorectal cancer screening
Colorectal cancer is a leading cause of death in Canada. Although finding it early can significantly improve outcomes, colorectal cancer screening programs have low participation rates, particularly among people with lower income or who are new immigrants. The Partnership is funding a multi-year initiative to help provinces and territories better identify populations who are underscreened and to work with local communities to understand and create solutions for the barriers that prevent them from accessing screening programs.
Reducing abnormal call rates for breast cancer screening
Abnormal call rates (ACR) for breast cancer screening (where people are called back for follow-up testing after an abnormal mammogram result) have been increasing. Yet rates of cancer detection have remained the same, suggesting many individuals are being told there is an abnormality on their mammogram when there is no cancer. As a result, they are subjected to further procedures and the stress of an abnormal mammogram without any additional benefit. High ACRs also have significant implications for the system. For example, reducing the ACR for subsequent screens to six per cent would eliminate more than 600,000 unnecessary tests over the next 10 years, saving the health-care system $110 million. This past year, the Partnership worked with the radiology and breast screening community to develop a framework for action to improve ACRs.
Aligning research and cancer control
In 2018, $491 million was spent on cancer research with approximately $27 million spent on health services research by Canada's major research funding organizations. This research is essential to improve cancer care and patient experiences, and is stronger when informed by the gaps and challenges experienced by clinicians, patients and the cancer system as a whole. This integration of cancer research and cancer control lies at the heart of Canada's Vision for Cancer Research, developed by the Canadian Cancer Research Alliance. The Vision speaks to the need for a bold and innovative approach to cancer research that translates new knowledge and innovation into practice within the cancer control system.
Increasing access to clinical trials
Clinical trials allow researchers to test new approaches to preventing, diagnosing and treating cancer and provide patients with early access to promising new treatments. Each year, an estimated 10,000 cancer patients in Canada participate in clinical trials. The Partnership is committed to increasing patient recruitment to clinical trials by funding the Canadian Cancer Clinical Trials Network (3CTN), an initiative to strengthen the capacity of centres to conduct investigator-led cancer clinical trials. The 2022 goal to increase recruitment across Canada by 75 per cent over baseline (2014) was achieved this year, with almost 4,200 patients now participating in 3CTN portfolio trials. Also, evidence has shown that there is a lack of clinical trials for adolescents and young adults with cancer (AYAs). New funding from the Partnership will allow 3CTN to support clinical trial coordination for AYAs through C17, a network of pediatric centres.
Improving quality through synoptic reporting
Synoptic data is helping surgeons and pathologists compare their practices and outcomes against both clinical guidelines and their peers—and make changes to improve the quality of care. Synoptic reporting uses standardized templates to gather and report patient data (including details of tissue samples and information gathered during surgery). The data not only informs treatment decisions, it also allows variations to be tracked between and across clinicians and organizations, as well as across the system. Through Partnership-funded projects across the country, groups of surgeons and pathologists are reviewing synoptic feedback reports, learning from peers who have better results and identifying areas for quality improvement. For example, in British Columbia, Ontario, Quebec and Nova Scotia, thoracic surgeons have set a target in the last year to reduce rates of complication after surgery by 10 per cent and are taking actions to achieve it.
Meeting the needs of adolescents and young adults with cancer
Each year, 7,600 Canadians between the ages of 15 and 39 are diagnosed with cancer. These adolescents and young adults (AYAs) face unique challenges during their cancer journey, including the impact of treatment on fertility, loss of independence and interrupted education and careers. Often, AYAs don't get the support they need, and there is a lack of good data to inform better treatments and survivorship support for this population. To address these gaps, the Partnership worked with more than 100 stakeholders across the country—including AYAs and their families—to create the Canadian Framework for the Care and Support of Adolescents and Young Adults with Cancer. This framework sets priorities to improve care and services for this population and will drive policy and action at all levels, from individual providers to the broader cancer system.
Improving symptom monitoring for patients
People with cancer can experience a wide range of physical and emotional symptoms – such as fatigue and anxiety – that make their treatment experience more difficult. Patient-reported outcomes (PROs) tools allow clinicians to regularly screen patients for these concerns and put the appropriate care and supports in place. The Partnership supported the successful introduction of PROs in eight jurisdictions in a previous phase of work. Now more jurisdictions are expanding their use of PROs to focus on integrating earlier access to palliative care for patients. Alberta and Quebec are building on their success with PROs to integrate them more fully into their clinical information systems.
Engaging surgeons to improve the quality of cancer surgery
Surgery is the most effective treatment for many cancers, and close to 80 per cent of cancer patients will have a surgical consult or surgery as part of their treatment. In fact, more than 100,000 cancer surgeries are done in Canada each year. However, wide variations in surgical practices mean some patients experience complications after surgery that result in longer hospital stays, readmission to hospital and sometimes death. To encourage more consistent adoption of surgical standards, the Partnership brought 11 pan-Canadian surgical societies together for the first time to form the Canadian Network of Surgical Associations for Cancer Care (CANSACC). The associations span all disease sites and allow the Partnership to reach all cancer surgeons in the country. The Network is providing a unified voice on cancer surgery to promote surgical standards and their shared vision of world-class surgical cancer care.
Together, we will do what cannot be done alone
The Partnership is committed to aligning our efforts to implement the refreshed priorities of the Canadian Strategy for Cancer Control with the healthcare reforms being embraced across Canada. This is a critical success factor for restoring healthcare system service in light of the COVID-19 pandemic and ultimately, achieving a future in which fewer people develop cancer, more people survive cancer and those living with the disease have a better quality of life.
Together, we will do what cannot be done alone.
Download the annual report